RFC and RFE centrifugal fans are one-sided intake fans driven by flange electric motors. They are designed for air exchange in civil construction, industrial premises and agriculture. (e.g. granaries). RFC fans are low-pressure fans (with forward-curved impeller blades), and RFE fans are medium-pressure (backward-curved impeller blades). Centrifugal fans are available in several types, versions and sizes with impeller diameters ranging from 200 mm to 630 mm.
Essential characteristics:
References and documents
Take a look at our completed projects. We have extensive experience in implementing HVAC, ventilation, air extraction and cooling projects and in many other areas. Documents are also available for download.
H and HL fans
For special applications, RFC and RFE fans in the H or HL versions are available. They have a reinforced spiral casing structure and allow installation in a position with a vertical rotation axis of the impeller. The H version is designed for applications where the total weight of the fan is applied to the intake flange, and the HL version is also designed for applications where the fan is positioned horizontally, but the total weight of the fan is transferred to the rubber spring feet. The H and HL fans are mainly used for installing on the roofs of spray booths and various workstations.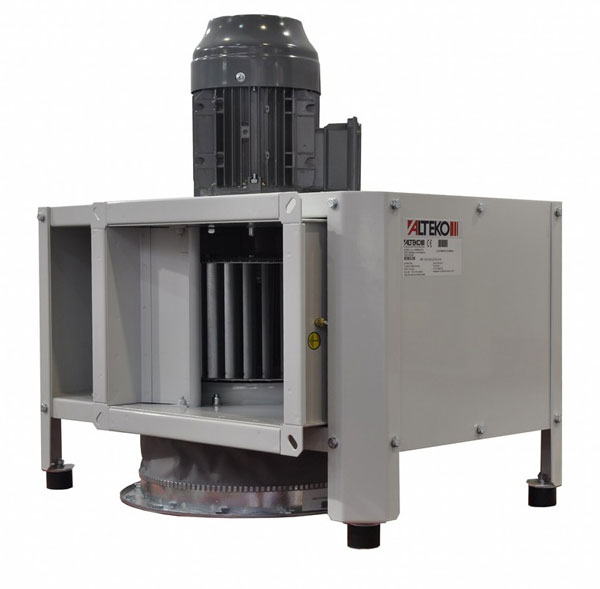 Accessories
Rubber vibration isolators are supplied as standard with the fans (except for the H version). A wide range of accessories can be added to the delivery, according to the customer's wishes.
for mounting the fan on a flat horizontal structure
Motor cover
with a horizontal rotation axis as weather protection
Cover grille
for the intake opening (if not connected to a duct)
Flexible insert
between fan discharge and a duct, between fan intake and a duct
Adapter
for the intake opening, for the discharge opening
Motor canopy
with a vertical rotationaxis
Contact us
If you have any questions, please do not hesitate to contact us. We will be more than happy to advise you and suggest the most suitable solution.