The ALTEKO company
ALTEKO, a limited liability company, is one of the leading manufacturers of HVAC systems and has been operating on the market for more than 30 years. The company was founded in 1991, and since its inception, it has been engaged in developing and manufacturing FVAC systems. The key success factor is a team of knowledgeable employees who have many years of knowledge and experience in the HVAC industry.
In 1993,the production premises in Hostomice pod Brdy (Czech Republic) were purchased, and production was moved there from rented premises located in Prague 5. The production site in Hostomice pod Brdy was gradually renovated and expanded so that today the company's production site is equipped with modern technologies covering an area of approximately 2,500 m2.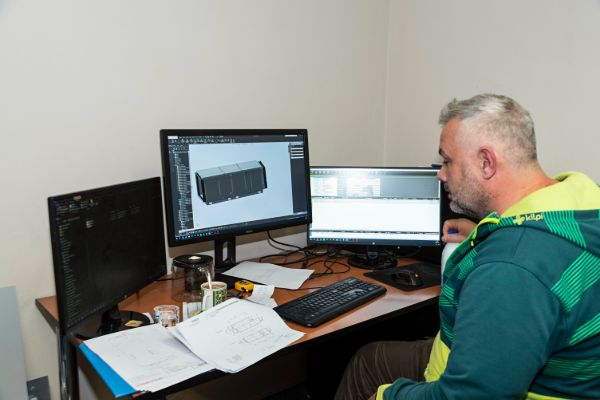 Development of own products
The ALTEKO company uses its own testing laboratory for developing its own products, testing their technical parameters already in the design phase, preparing technical documentation, for the purpose of product certification and last but not least for ensuring consistent product quality.
The testing laboratory provides the possibility of measuring the performance characteristics of fans and air conditioning units, including efficiency, acoustic parameters, mechanical vibrations, chamber leakage and mechanical properties of panels. For this purpose, the ALTEKO company uses high-quality measuring equipment made by renowned European manufacturers.
Manufacturing programme
The manufacturing programme has gradually taken shape over the years, and today the company manufactures ventilation and air conditioning units and centrifugal fans in various sizes and designs. The company's experience in developing and manufacturing centrifugal fans and modular ventilation and air conditioning units is backed by a history of more than 30 years. During this time, the company has invested in both its development and manufacturing processes. The company operates under a well-established quality management system under the ČSN ISO 9001:2016 standard certified by TÜV SÜD Czech.
Thanks to the high quality of the products and continuous customer care, the company has earned a good reputation among the manufacturers of HVAC systems on the domestic market and in some other countries to which it exports.
More photos of our company
Contact
Do you have questions? Do not hesitate to contact us.